A Roman Catholic priest from Kerala [ Images ], Father Saji Panangala will solemnize the marriage of German international and the Golden boot winner Thomas Mueller [ Images ].

Father Saji who hails from Eravimangalam in Kaduthuruthy of Kottayam district, has been working as a parish priest in various places of Germany [ Images ] for the past eight years.

He has been in charge of the St Lawrence church at Pearl, which is forty-five kilometers from Munich.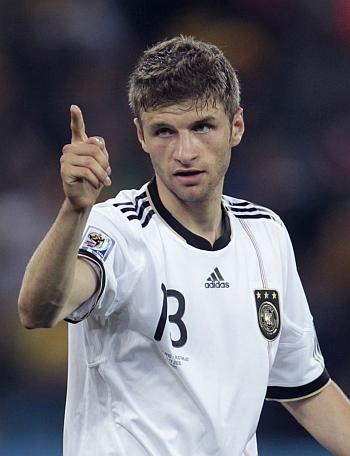 Mueller has already been engaged to his friend and fiance Lisa. However a grand marriage will be conducted at the Church two months from now in which, Father Saji will conduct the rituals.
Father Saji is associated with the Mueller family, which comprises of his father Gerhard Mueller who is an engineer with BMW [ Images ], while his mother Claudia is an auditor with the local church. Mueller's younger brother Simayon is a student at the local school.
Father Saji reminisces that younger Mueller has been an Altar boy in the church before becoming serious in professional football.
Father Saji also told rediff.com over mail that Mueller had visited the Church after the World Cup, wherein he shared the golden boot for the most number of goals and also won the best young player award.
Mueller is only twenty and is expected to become one of the legends in the history of football in Germany.