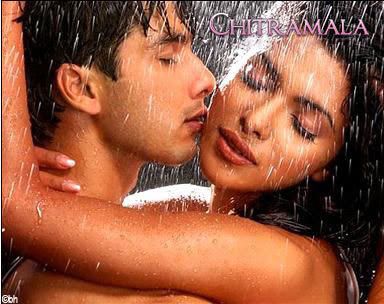 There are lines and limits that Priyanka Chopra hasn't crossed in films no matter how bolder a character she may be portraying. So it was expected when she shot down director Vishal Bharadwaj's request to kiss her co-star Shahid Kapur before an intimate scene in the upcoming movie Kaminey.
There is a scene in the film when Priyanka and Shahid's character end up making love. Vishal apprarently found it strange that the two stars are shown getting so intimate without even sharing a kiss.
Reports say when he expressed his opinion to Priyanka she wasn't very interested in locking lips with Shahid before the camera. So the scene was shot without the kiss.
But later, when Vishal saw the scene, he knew what was evidently missing - a kiss. To drive home his point, he made Priyanka and Shahid see the scene. Eventually, Priyanka too realized that a kiss was actually a demand of the scene.
So the lovemaking scene was reshot in Mumbai and this time Shahid, Priyanka kissed. The scene, was canned in five takes as Vishal wanted to capture it from different angles.
'Kaminey' is set for mid-August release.